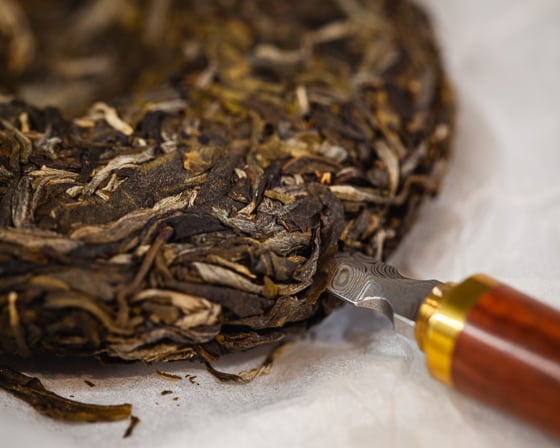 Wildwood is offered as a very small tea cake. I'm not a fan of the smaller sizes that are becoming popular. But, I recognize it is a good way to get more people into tea as the smaller sizes are cheaper to start. If this were a full cake, it would be out of the price range of most.
I really enjoyed the 2018 Wildwood, with it's smooth texture, so jumped right in with a cake of the 2019.
The cake is easy to break apart without snapping the leaves. The dry and wet leaves both have a hint of smokiness to them. The first sips remind me of the great texture from the last one, and have a good sweetness.
I really enjoy the energy that this tea gives. Strong and focused. Great longevity. Lingers pleasantly in the mouth. There is a lot going on for the tea in each steep, with shifts from an early complexity into later sweetness.
This is a tea I just keep coming back to, both within a session and between sessions. My small tea cake has less than half left after only a few months.
It is worth reading the description on their site of how these tea gardens were accessed and protected.
We traveled by motorcycle more than an hour. The path was mostly single track, steep, and muddy through tight forest paths. The motorcycles only get you so far. Then we had to hike a few kilometers with a lot of vertical gain.
With the efforts to protect the garden, I hope this means we have many more years ahead with this great tea!