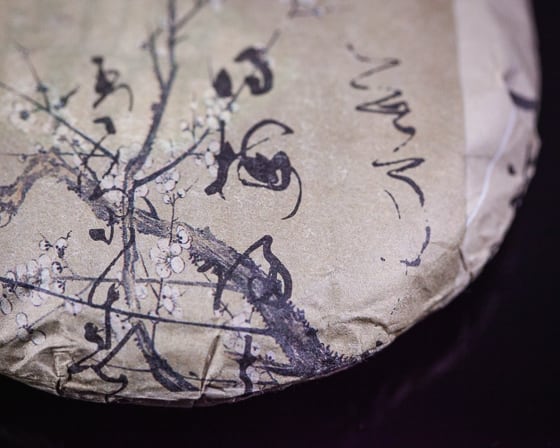 Plum Beauty is described as "a perennial favourite", I'm going to start with a disclaimer: I loved the 2018 version of this tea, and fully expected to love the 2019 version. I am not disappointed. Somehow, it tastes even better this year.
The Plum Beauty series is wonderful balance of bitterness with sweetness. You notice the bitterness when drinking, and it is one that I enjoy. It reminds me of drinking a great wine or spirit, you taste the alcohol, but it doesn't burn. You get a chance to focus on the other flavours and sensations.
The sweetness lingers, and then lingers some more. One of the reasons I enjoy this tea, is that I keep coming back to it. Within a session, you don't forget you are drinking it and get distracted. It stays with you, and brings you back to the pot for one more brew.
My 2018 cake I actually hid, as I was drinking through it quite quickly and wanted to have some left for future years to compare. I added a picture. Even with hiding it, I'm still almost half way through. And I have lots of other teas to drink.
I find both year's versions to have a good, clean energy that is mildly uplifting. That is, if you look for it, you will notice, but it isn't a tea that will knock you sideways.
If you've read this far, just go buy a cake. It is fantastic value.